Why exhibit at CMBBE 2024?
Exhibition hall – Library at Art et  Metiers
The main lunch and coffee break area is located in the vicinity of the exhibition area

Poster session A is located in the Library, together with the exhibition, project corner, and coffee break

The meeting rooms are located close the the main catering area and the Library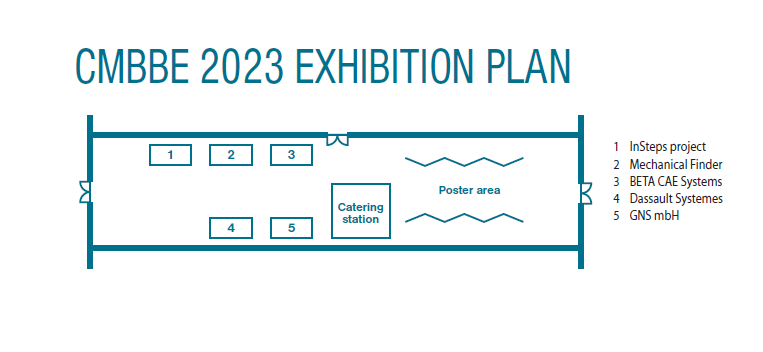 Sponsorship & exhibition opportunities
Digital branding
1500 EUR
Email blast to 600 delegates, advert and logo on our website, social media posts on our platforms & Advert and logo on the final programme
Inserts in conference bags
1000 EUR
Have your own printed materials inserted in the conference bags. Conference bags will be distributed to all participants
Place your own slide between sessions in all breakout rooms of the conference
Best scientific presentation
1000 EUR
Logo and advert in the final programme, acknowledgement of the sponsorship during the awards ceremony, logo, company description and link to the company website on the CMBBE 2024 website, social media promotion
Best poster presentation
800 EUR
Logo of the company on the CMBBE 2024 website, logo on the best poster award, acknowledgement of sponsorship during the award ceremony
Would you like to discuss your possibilities with the CMBBE 2023 Conference Secretariat? Write us an email at info@cmbbe-symposium.com and we will be glad to answer any questions you may have.
Manual for Sponsors & Exhibitors
Practical information
Sponsorhip and Exibition opportunities
Branding opportunities
Practical information
Exhibition practical information:
– All stands are 4 sqm (2m x 2m)
– Included: 1 table and 2 chairs
– For technical equipment at the booth, contact: info@cmbbe-symposium.com
Exhibition and venue plan will be sent shortly.
Shipment:
– packages will be received starting with Thursday, 27th of April 2023 (the venue is not responsible for broken or missing items, all items will be kept in a closed space)
– contact details for shipment: Claudio Vergari – Mobile number: +33 (0) 771 879 525; claudio.vergari@ensam.eu
– label on packages: CMBBE 2023 Symposium (exhibition, company name)
– Shipping address: ENSAM – ParisTech Arts et Métiers Institute of Technology, 21 Rue Pinel, 75013 Paris
Shipment packages: Please send us information about the number of packages you will be sending to the venue, including the weight and size of each package, latest by 10th of April 2023
Set-up timeline:
– Tuesday, 2nd of May 2023 from 13:00 to 17:00 pm
– Wednesday, 3rd of May 2023 from 7:30 to 8:30 am
Please let us know your estimated time of arrival on the setup day
Dismantling:
– Friday, 5th of May 2023 after the last coffee break. All materials must be picked up on 5th of May 2023
Registration:
To avoid long queues, please, if possible, come to pick up your badges on Tuesday 2nd of May 2023 at the registration desk between 13:00 – 17:00 pm.
Exhibition area:
– The exhibition is in the central area of the venue. Coffee break stations will be placed in the exhibition area to increase the networking opportunities among delegates and with the industry.
Should you have any questions, please contact us: info@cmbbe-symposium.com
Sponsorhip and Exibition opportunities
Branding opportunities